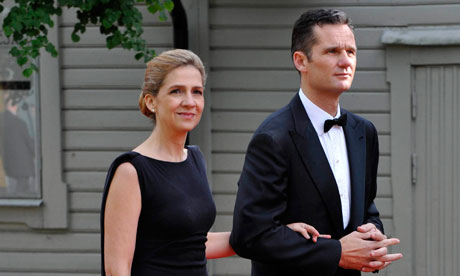 April 3, 2013 Guardian
Allegations of corruption and tax fraud struck at the heart of Spain's royal family on Wednesday as the king's daughter, Princess Cristina, was formally named as a suspect in a court investigation.
The dramatic decision by investigating magistrate José Castro will see the princess called to give evidence at a courthouse in Palma de Mallorca, capital of the Balearic Isles, on 27 April.
The decision is a blow for King Juan Carlos, as a once model royal family begins to buckle under the weight of public scandal.
A spokesman at the king's Zarzuela Palace in Madrid expressed surprise at the decision. "The royal household is in absolute agreement with a decision by state anti-corruption prosecutors to appeal against the decision," he said.
Princess Cristina, aged 47, must explain her role as a board member of a non-profit foundation set up by her husband, former Olympic handball player Iñaki Urdangarin.
Total views: 1899