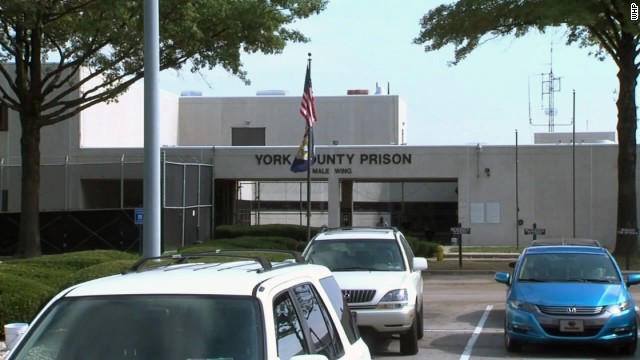 Oct. 6, 2013 CNN
Three correctional officers in Pennsylvania have been accused of organizing inmate fights and rewarding the victors with food and coffee, according to Pennsylvania State Police.
York County Prison correctional officers David Whitcomb, 28, Mark Haynes, 26 and Daniel Graff, 37, were charged with official oppression and harassment on Friday after a state police investigation, Pennsylvania State Trooper Robert Hicks told CNN.
The investigation into the alleged incidents began after video surveillance showing Haynes and Whitcomb grabbing an inmate by his back and neck was discovered during an unrelated investigation. A captain then asked the inmate involved to provide a written statement about the event, the state police report said.
"Even though it was consensual, correctional officers were still using the power of their position. They controlled the distribution of the food and the coffee, and they were using them to entice the inmates to engage in these activities," Trooper Hicks said.
The inmate, David Wright, 27, wrote that officers Whitcomb, Haynes and Graff had arranged for him to fight another inmate, James Hicks, 27. Wright won the fight and was rewarded with extra lounge food and coffee, according to a state police report.
The state police report also said that officers also told Wright that they would give him lounge food if he permitted them to punch him in the leg and arm. Graff reportedly also sprayed pepper-foam in Wright's face in exchange for coffee, though Wright reported that he never received more lounge food or coffee, according to the report.
Like Wright, James Hicks also was given food in exchange for letting the officers punch and choke him, police said. Additionally, James Hicks told investigators that the three officers challenged him to perform tasks such as drinking a gallon of milk in an hour, eating a spoonful of cinnamon, snorting a line of spicy vegetable Ramen noodle powder and drinking water with pepper foam in it. James Hicks wrote that the correctional officers called their challenges the "Retard Olympics." He said that the acts were consensual and that he was rewarded with food, the report said. Read More
Total views: 1766