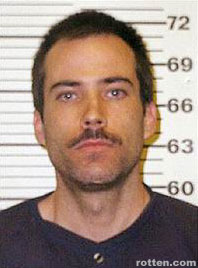 Eric Rudolph
On April 8, 2005, Eric Rudolph agrees to plead guilty to a series of bombings, including the fatal bombing at the 1996 Olympics in Atlanta, in order to avoid the death penalty. He later cited his anti-abortion and anti-homosexual views as motivation for the bombings.
Eric Robert Rudolph was born September 19, 1966, in Merritt Island, Florida. He served a brief stint in the U.S. Army and later supported himself by working as a carpenter. On July 27, 1996, a 40-pound pipe bomb exploded in Atlanta's Centennial Olympic Park, killing one woman and injuring over 100 people. A security guard named Richard Jewell was initially considered the prime suspect in the case. Then, on January 16, 1997, two bombs went off at an Atlanta-area abortion clinic, injuring seven people. In February of that same year, a bomb detonated at a lesbian nightclub in Atlanta, injuring four people. On January 29, 1998, a bomb exploded at a Birmingham, Alabama, women's health clinic, killing a security guard and critically injuring a nurse.
Rudolph became a suspect in the Birmingham bombing after witnesses reported spotting his pickup truck near the clinic before the bomb went off. Authorities then launched a massive manhunt in North Carolina, where he was spotted stocking up on supplies. In February 1998, Rudolph was officially charged as a suspect in the Birmingham bombing. In March 1998, Rudolph's brother Daniel cut off his hand to protest what he saw as the mistreatment of Eric by the F.B.I and the media. In May of that same year, Eric Rudolph was named to the FBI's Ten Most Wanted Fugitives list and a $1 million reward was offered for his capture. In October 1998, Rudolph was officially charged in the three Atlanta bombings. He continued to elude authorities, who believed he was hiding in the Appalachian wilderness and possibly getting assistance from supporters in the region. Then, on May 31, 2003, after over five years as a fugitive, Rudolph was arrested while digging through a grocery store dumpster in Murphy, North Carolina. On April 8, 2005, just weeks before his trial was scheduled to begin, the Department of Justice announced that Rudolph would plead guilty to the charges against him in all four bombings. He was later sentenced to four life terms without the possibility of parole.
Michael Thomas Barry is the author of Murder & Mayhem 52 Crimes that Shocked Early California 1849-1949. The book can be purchased from Amazon through the following link:
Amazon - http://www.amazon.com/Murder-Mayhem-Shocked-California-1849-1949/dp/0764339680/ref=la_B0035CPN70_1_3?ie=UTF8&qid=1361552464&sr=1-3
Total views: 1640