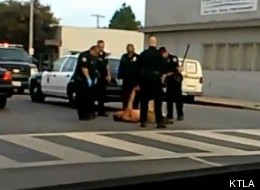 Sept. 4, 2013 Huffington Post
LONG BEACH -- Long Beach Police officers have been accused of police brutality after a YouTube video that shows several officers surrounding a man as one officer hits him with a baton went viral.
The video, posted to YouTube Monday, shows a man lying on the ground as several Long Beach Police officers surround him. One of the officers then strikes the man in the legs as others shout orders.
Family members identified the man as Porfirio Santos-Lopez, 46, of Long Beach, and said they were devastated by the incident which took place at Locust Avenue and South Street Monday.
He was being taken into surgery at Long Beach Memorial Hospital late Tuesday night for his injuries, said his wife, Lee Ann Hernandez.
Long Beach Police would not make a comment on the incident late Tuesday night saying a statement would be made on Wednesday. Read More
Total views: 3596