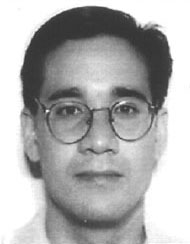 Andrew Cunanan
On April 27, 1997, Andrew Cunanan kills Jeffrey Trail by beating him to death with a claw hammer in Minneapolis, Minnesota. Trail's murder set Cunanan off on a killing spree that ended in July when he killed himself on a houseboat in Miami Beach.
Cunanan spent most of his adult life as the kept companion of wealthy older men, living a very expensive lifestyle in San Diego, California, that was far beyond his own means. In April 1997, Cunanan told his friends that he was moving to San Francisco. However, he actually bought a one-way ticket to Minnesota after begging his credit card company to extend his credit limit.
In Minnesota, Cunanan met up with David Madson, whom he had briefly dated in the past. Apparently, Cunanan went there in an attempt to continue the relationship. On April 27th, Jeffrey Trail, an acquaintance of both Cunanan and Madson, met the two at Madson's apartment, but the details of what happened there are still unknown. Authorities know only that Cunanan killed Trail with a hammer and then went to East Rush Lake, where he killed Madson two days later with one shot to the head.
Cunanan then took Madson's jeep and drove to Chicago where he found his next victim: 72-year-old millionaire Lee Miglin. He bound Miglin with duct tape, stabbed him with gardening shears, and then slit his throat with a saw. On May 9th, after driving east to New Jersey in Miglin's Lexus, Cunanan killed his fourth victim, again escaping with the victim's car. A massive manhunt ensued when the FBI placed Cunanan on its Ten Most Wanted List. The press ran with the story, and Cunanan was featured multiple times on America's Most Wanted. His celebrity reached its peak on July 15th, when Cunanan killed designer Gianni Versace outside his mansion in the South Beach section of Miami. On July 23th, Fernando Carreira, the caretaker of a houseboat in Miami, found an intruder on the boat and called police. Apparently sensing his capture, Cunanan shot himself in the head, but police, unaware, engaged in a five-hour standoff with the already dead killer. No solid motive for Cunanan's murders has emerged, although rumors abound that he was HIV positive and sought to take revenge for his condition.
Michael Thomas Barry is the author of Murder & Mayhem 52 Crimes that Shocked Early California 1849-1949. The book can be purchased from Amazon through the following link:
Total views: 2121