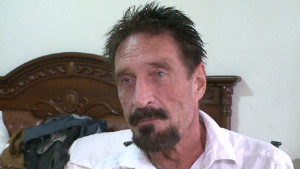 (CNN) -- American technology pioneer John McAfee said he faked a heart attack while detained in Guatemala to buy time for his attorney to file a series of appeals that ultimately prevented his deportation to Belize, hastening the government's decision to send him back to the United States.
After weeks on the run and days in immigration detention, McAfee arrived in Miami on Wednesday.
He said Belize authorities in April 2011 accused him of running a methamphetamine lab, before the November 11 killing of his neighbor, American businessman Gregory Faull, and have since persecuted him.
"I have absolutely nothing to do with the murder in Belize," he said Thursday. "This is not about a murder in Belize. This began on the 30th of April of last year when 42 armed soldiers stormed my property."
Total views: 3962